Martin Bird and Associates Inc.
326 First Street Suite 35
Annapolis, Maryland, US, 21403
Tel:443-994-8093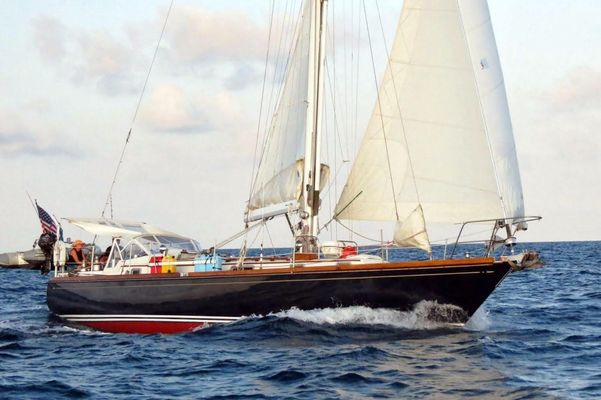 1990 Bristol 45.5 Aft Cockpit
Oxford, Maryland
Builder/Manufacturer
Bristol Yachts
There are other Ted Hood designed Bristol 45.5 aft cockpit's out there, but EGRET is truly a distinguished, thoughtfully designed, and very special semi-custom version of this classic, traditional cruising yacht. The current and one prior owner have continually maintained and upgraded this boat to keep her in the best condition possible. EGRET has been professionally maintained by New England's premier boat yards (Hinckley, Concordia, Dodson) and at the Brewer Oxford Boat Yard in Oxford, Maryland, where her current owners have had biannual professional boatyard maintenance for the past six years.
After being "gently cruised" by her first owner in southern New England until 2010, her current owners have extensively cruised EGRET between the southeast coast of Newfoundland and the southern Bahamas. EGRET has cruised Maine for the past five summers and the southern Bahamas for the past four winters. She has proven to be not only a commodious boat while living aboard and relaxing or entertaining at anchor, but an extremely comfortable offshore passage-making vessel. Navigation, watch-keeping, and sail-handling in heavy weather can all be easily accomplished without leaving the protection of the dodger.
Please review the details described in the full specifications of this listing, but know that EGRET represents a level of quality and classic design that is difficult to find, is well found, and offers the opportunity for extended cruising to unlimited destinations.
See this boat at the Annapolis Boat Show
Specifications
Fuel Tank Cap.
171|gallon
Water Tank Cap.
234|gallon
Holding Tank Cap.
20|gallon
Accommodations & Galley
As noted, EGRET is a semi-custom 45.5. From the well-protected, efficiently designed cockpit, one enters below from the single companionway. To starboard is a large, aft facing Nav station with an array of navigational instruments and on-board controls, gauges & electrical panel. To port of the companionway is the aft stateroom highlighted by a double bunk, numerous storage lockers, drawers, and hanging locker, as well as access to an ensuite head, which includes a full-sized stall shower.
Forward of the Nav station is the large, efficient U-shaped galley. A large, separate freezer box is located on the port side, just aft of the settee. There is also extensive storage throughout the galley.
Deep double s/s sink
Hot and Cold pressure water
Hand, fresh water pump
Seagull IV filtered water system
Built-in GE microwave/toaster/thermal oven
Force 10 3-burner stove/oven
Sea Frost engine driven and 110V compressors for refrigeration system with spacious refrigeration box
Oversized (20 gal) s/s Allcraft hot water tank
The main salon is spacious & traditional in design. An onboard stereo system utilizes high-end speakers and is powered by an amplifier. To port is an L-shaped settee with curved section adjacent to the forward bulkhead. Another settee is opposite to starboard. Both settees can be extended inboard to provide wider berths. In between the settees is a large, high-gloss varnished drop leaf dining table, which often has accommodated 8-10 diners. Outboard of both settees are shelves and storage lockers. There are also very large storage lockers beneath both settees as well as foul-weather gear locker and a bureau with 4 drawers forward of the starboard settee. The entire interior is satin varnish- finished teak. The cabin sole is gloss varnished teak and holly. Numerous hatches and opening ports provide abundant light and ventilation. Six Guest cabin fans, 4 s/s Nicro solar vents, and 4 large dorade vents add to airflow throughout the boat. Tasteful Frigast bulkhead lights are located throughout the boat as well.
The forward stateroom has a large double V-berth with filler and numerous overhead storage lockers and drawers, as well as port and starboard hanging lockers. It adjoins its own head with shower and a private entrance. A second entrance door provides access from the main salon.
The traditional, well-maintained, quality-built, richly finished interior aboard EGRET creates an environment of comfort and taste. There is the unmistakable feeling that you are on a proper yacht.
Sails and Rigging
Quantum Mainsail-fully battened/radial (Dynema) Hydra-net (2007)
Doyle Genoa 135% (2009)
Doyle staysail with cover on removable inner forestay
Doyle Asymmetric Spinnaker with "snuffer" sock (new turtle 2015)
Yankee jib (original, but serviceable condition)
Navtec rod rigging (all upgraded or replaced in 2011)
Barient 37 ST primary winches (2)-serviced 2017
Barient 32 ST secondary winches (2)-serviced 2017
Barient 27 ST halyard winches (3)
Barient 28 ST (mainsheet) and 21 ST (staysail sheet) cabin top winches
Barient 24 ST reefing winch
Harken turning and deck blocks
Harken carbo genoa furling lead blocks (2014)
S/s main traveler bridge with Harken traveler hardware
Schaefer roller genoa cars
Reinforced Stainless inner and outer genoa/staysail car tracks
Stainless double turning blocks mounted outboard of coamings
Spinnaker pole track with Harken car
Stainless centerboard pennant drum, with stainless cable (replaced 2015)
Removable inner forestay with Highfield release lever
Two masthead burgee/pigstick halyards & port/starboard lower spreader flag halyards
Navtec hydraulic backstay and boom vang adjusters
Mast Awlgripped (2004)
New Selden boom (2014)
Tides Marine Track & Slide mainsail system
Hull & Deck
Extra high lifelines
Topsides Awlgripped Flag Blue
Teak & Holly sole replaced 2004
Teak decks
Exterior brightwork varnished late spring 2017
Hailer/electric fog horn mounted on mast, powered by Standard Horizon Matrix 2150 VHF radio with cockpit RAM mic
Seawater anchor wash-down pump at bow
MOM 8-A (2 yr certification in 2016)
Lifesling2
Stern rail mounted BBQ grill
Revere 6-man life raft mounted in custom cradle on foredeck (new 2011)
Cockpit shower with long flexible hose & high pressure faucet (2015)
Custom Fairclough cover and aluminum frame (upgraded fabric & frames 2011)
Ideal electric windlass, with up/down foot switches,(serviced twice yearly, last 6/2016)
22 kg Bruce primary anchor with new (2017) 220' all-chain rode (3/8 inch HT)
45# CQR with 60' of chain and 200' nylon rode
Double lifelines with port & starboard gates
Swim ladder integrated into stern rail
Outboard hoist at transom
Kato Island dinghy davits with custom s/s stern pulpit reinforcement (2012)
AB 9VL 9.5' Hypalon RIB inflatable (2015)
Tohatsu 9.8hp outboard engine with electric start (2011)
Shaft Shark rope cutter
Mechanical
3-bladed Max-Prop (serviced 2014)
Sidepower bow thruster
Manual bilge pump in anchor locker
Whale manual bilge pump in cockpit (2015)
Two W/C Skipper II marine toilets-serviced annually and rebuilt every two years (last done fall 2015)
Three aluminum diesel fuel tanks (2013 and 2014) with gauges (171 gal. total)
Three aluminum domestic water tanks with gauges (234 gal. total)
Espar D5 Airtronic diesel heater with digital thermostat (2011)
Electronics & Navigation Equipment
Raymarine C-120W radar/plotter display (under port side of dodger) and Raymarine C-90W radar/plotter display (at Nav station). Both networked to Raymarine high speed network buss interfaced with Furuno GPS, B&G displays, and autopilot (2011).

Standard Horizon Matrix 2150 VHF DSC radio with cockpit RAM mic, hailer, (automatic) foghorn, and AIS receiver -viewable on both VHF as well as radar and plotter displays (2011)

Icom IC-M802 SSB transceiver with control head at Nav station (2014)

ACR GlobalFix 406 EPIRB/GPS (2011); 5-year battery replaced with full factory service in 2016

Bitstorm "Badboy" Wi-Fi booster antenna with associated computer RJ-45 connections (2014)

Blue Sea VSM 422 digital monitor for 3-battery bank voltage and AH use, as well as monitoring holding tank status using ultrasonic sensors. Can also be configured for AC power system and bilge status monitoring. (2011)

Magnum MS 2812 Inverter/Charger remote display (2014)

B&G Hydra 2000 integrated multifunction displays (one in Nav station, two under dodger, one at helm) B&G Hydra autopilot control displays at helm and Nav station, and autopilot control remote under dodger. (Note: B&G and Raymarine systems are integrated with two independent GPS inputs which can be utilized by either system).

Furuno GP-32 GPS display which inputs to B&G system and (optional) laptop plotter via Sea Level serial/USB cable (at Nav station).
Electrical
Westerbeke 5 KW generator, rebuilt 2006, professionally maintained (4230 hours)
600 AH Lifeline AGM House battery bank (fall 2015)
Two 30 amp and one 50 amp shore power inlets
3000 watt Magnum inverter/charger (2014)
Both main engine and generator have large alternators to charge 600A house banks
Upgraded charging system with Blue Sea automatic relays for all 3 battery banks (2016)

Balmar Max Charge MC-612 smart regulator for Balmar 165A engine alternator and Balmar ARS-5 smart regulator for generator 130A alternator (2013)
Upgrades/Maintenance since 2011
Rig:
Complete inspection/replacement or refurbishing of all heads and terminals/replacement of 40' of rod by Sound Rigging, Essex, CT (3/2011)
Fabrication/installation of 42" crane at masthead for 30" burgee; new Windex/Shakespeare VHF antenna combo (2011)
Replacement of masthead Aqua Signal anchor/tricolor light and pulpit-level running lights with LED fixtures (2011)
Replacement of boom with Selden spars boom (2013)
Replacement of bow light/foredeck light combo with Aqua Signal LED fixture (2014)
Deck:
Revere Coastal Commander (double-pontoon floor, six-man, hydrostatic release) canister life raft with 3-year inspection interval (2011); next inspection due 6/2017
Kato "Island" dinghy davits with custom stern pulpit reinforcement (2012)
Bottom:
Stripped and barrier-coated bottom (5 coats of Interlux Interprotect 2000E) in 2012
Electronics:
Raymarine C-120W plotter/radar mounted under dodger with Raymarine C-90W repeater at Nav station; Raymarine 24" HD digital radome with new in-mast cable (2011); new "uni-controller" rotary trackpads on both units (2016)
Standard Horizon Matrix 2150 VHF radio with cockpit RAM mic, hailer and foghorn, and AIS receiver viewable on both VHF and plotter/radar displays (2011)
Blue Sea VSM 422 digital monitor for monitoring all three battery banks as well as two holding tanks with ultrasonic sensors (2011)
ACR GlobalFix 406 EPIRB/GPS (2011); 5-year battery replaced in 2016
Icom IC-M802 SSB transceiver with control head at Nav station (2014)
Bitstorm "Badboy" Wi-Fi booster antenna with associated computer RJ-45 connections (2014)
Magnum MS 2812 Inverter/Charger with Nav station remote display (2014; factory-serviced 2016)
New Lifeline AGM house bank (600AH), engine and generator starting batteries (2015)
Replacement of B&G wind sensor (2014), depth sensor (2014), and speed/sea temp sensor (2016)
Charging system upgrade with two Blue Sea 7620 Automatic Charging Relays (ACR's) replacing older battery isolators 2016
Engine (Westerbeke W-70):
Replacement fresh water pump (2011)
Replacement exhaust manifold and elbow (2011)
Replacement Vetus water lock NLP muffler (2012)
New Balmar 165-amp house alternator (2014)
Replacement starter motor (2015)
Replacement Sherwood raw water pump (2015)
Complete upper engine overhaul, head re-torqueing, valve grinding, valve clearance adjustment (2015)
Installed upgraded sound insulation in engine compartment (2017)
Generator (Westerbeke 5KW)
Replacement of exhaust hoses (2012)
Replacement raw water pump (2013)
Replacement of glow plugs (2015)
Installed upgraded sound insulation in generator compartment (2017)
Other Mechanical:
Espar diesel heater-original unit completely replaced (including D5 Airtronic Heater, new ducts, wiring, and digital thermostat) (2011)
Replaced prop shaft with Aquamet 22 shaft (2012)
Ideal anchor windlass-chain gypsy replaced (2012); windlass lubed and gear oil replaced every 6 months; upgrade with gearbox vent and shaft seal kit (2016)
Centerboard pennant replaced with 316 stainless steel 7X19 1/4" cable (2014)
Replacement of all three diesel fuel tanks with new aluminum USCG-specification tanks-171 gal total capacity (2013 and 2014)
Max-Prop serviced/rebuilt by PYI (2014)
Sidepower bow thruster- serviced annually; prop replaced (2014)
Replacement of manual bilge pump with Whale diaphragm model (2014)
W/C Skipper II marine toilets—serviced annually and rebuilt very two years (last done fall 2015)
Refrigeration: regular annual service and replacement of parts as needed to Sea Frost engine driven and AC systems; new water cooling pump, condenser and drier for AC system (2015); new AC compressor (2017)
Replaced domestic fresh water pressure system pump with Jabsco VFlo 5.0 (2015)
Back-up fresh water pump (Jabsco 31620) mounted for quick hose and power connections if needed (2015)
New Seagull IV filtered water spigot (2016)

Two W/C Skipper II marine toilets-serviced annually and rebuilt every two years (last done fall 2015). Both heads can be pumped overboard or into 20 gallon holding tanks, each with Blue Sea ultrasonic tank level monitors. These holding tanks can each be pumped out from a deck fitting or overboard with macerator pumps.
Sail/Canvas:
Fairclough winter cover repaired/re-stitched and aluminum frames upgraded by Miller Marine Canvas, Milford, CT, 2011
Forward hatch sunbrella cover (2013)
Genoa sun edge replaced (2014)
New Doyle spinnaker turtle for asymmetric spin. (2015)
New Stack Pack (Quantum "SailPack") for mainsail (2015)
Other:
Tohatsu 9.8 HP (MFS 9.8 A3EFS 4-stroke) outboard with electric start-188 hours (2011)
Replacement of salon (2012) and aft cabin(2013) upholstery with Sunbrella chenille fabric
New AB 9 VL 9.5' Hypalon RIB inflatable dinghy (2015)
Exclusions
The following items do not convey with the yacht:
Crystal ship's decanter and mahogany base on port salon book shelf

Concordia Yawl half-hull model mounted on salon forward port bulkhead

Chelsea 7" ship's clock and 5" barometer mounted on port salon bulkhead

Oriental carpet in main salon

Owner's personal laptop (seen in some Nav station photos)
Default
The Company offers the details of this vessel in good faith but cannot guarantee or warrant the accuracy of this information nor warrant the condition of the vessel. A buyer should instruct his agents, or his surveyors, to investigate such details as the buyer desires validated. This vessel is offered subject to prior sale, price change, or withdrawal without notice.
customContactInformation
Please contact me at 443-994-8093 or chet@martinbird.com for more information or to schedule a showing of this yacht.